How to get beautiful headshot or portrait
Many of you ask me: when I do headshots, how do I arrange the process.
First, call us to book your date and time for the headshots.
We will discuss what kind of background you prefer. The choices are solid white, gray and black. I also have a lovely blue and lavender (close to light purple) for stained backdrops.
The next step is to choose your outfit. Depending on your needs it would be either formal attire or casual dress. In all events, it should be something that you feel comfortable in, and that best projects the image you want to present. I would strongly recommend avoiding highly detailed patterns and very narrow stripes because these cause negative optical effects known as Moiré. Also, my personal advice is not to wear solid black, while solid white is also best avoided because it attracts too much attention. So, then, no stripes, and no solid black or white.
And do consider how the color of your clothing will correspond to the background you are choosing.
If you need grooming, trimming, or shaving, please take care of it before you arrive at our session.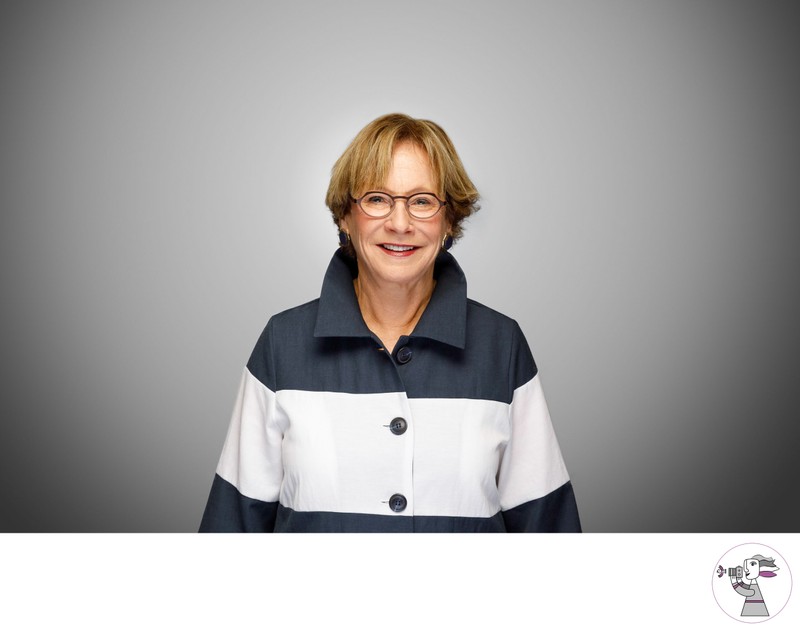 The day before our session I will call you or send you a text or email to remind you about our appointment. When you come to the studio please bring cosmetics (powder, lipstick, etc.), a hairbrush, and any other personal belongings you may need.
When you arrive, all the equipment will be ready to go. You will sit on a special stool with adjustable height. The camera and tripod will be set in front of you. As we take the shots, you will see each photo one-by-one on my laptop, which allows us to make necessary changes as we go. It usually takes 30-40 minutes to try different poses and facial expressions.
As an option you can choose images that you like best, to be manually but promptly retouched. Retouching includes skin smoothing, removing blemishes and/or wrinkles, skin tone correction, eyes cleaning and whitening, under-eye bag correction, teeth cleaning, and flyaway hair removal.
Your photos will usually be ready by the end of the following day. You will receive a link to your online gallery with selected photos, which you can download in high resolution and use in any manner you choose.
You can ask me my real clients gallery as an example of my work..
Getting here is easy. Getting the headshots you want is just as easy!
#headshot #photography #houston